Spring is Just Around the Corner
* Plus More Titles for April !
DVD's: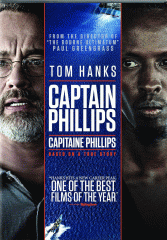 * Captain Phillips
Based upon the book "A captain's duty: Somali pirates, Navy Seals, and dangerous days at sea" by Richard Phillips with Stephan Talty. Originally released as a motion picture in 2013.
Special features: Commentary with director Paul Greengrass; English commentary subtitles; Capturing Captain Phillips (in-depth behind-the-scenes featurettes on making the acclaimed film); Previews.
Non-Fiction:
* Dr. Qing Li – Forest Bathing: How Trees Can Help You Find Health and Happiness
"A guide to the therapeutic Japanese practice of shinrin-yoku, or forest bathing, demonstrates how it can reduce stress levels, improve the immune system, and promote health and happiness, and includes more than one hundred photographs from forests around the world."

Erica Strauss – The Hands-on Home: A Seasonal Guide to Cooking, Preserving and Natural Homekeeping
"Popular Seattle blogger, Erica Strauss (Northwest Edible Life) shows us how in this modern homekeeping handbook for thrifty DIYers who care about sustainability. A fresh take on modern homemaking, this is a practical (and sometimes sassy) guide to maximizing your time, effort, and energy in the kitchen and beyond. With a focus on less consumerism, it will teach you how to organize your kitchen and home to make the best use of your time. For those yearning to live a more ecologically minded, grounded lifestyle, this book is full of practical, no-nonsense advice, fabulous recipes, and time- and money-saving techniques"–Provided by publisher.
Lynn Acton – What Horses Really Want: Unlocking the Secrets to Trust, Cooperation and Reliability. Photos by Jerry Acton
"Horses want a leader they trust." This begins local author, Lynn Acton's seven part instruction for the horse and rider to learn behaviors and build confidence and reliability.

Susan McBane – The Horse in Winter: How to Care for Your Horse During the Most Challenging Season of the Year

Stephen E. Ambrose – Nothing Like it in the World: The Men Who Built the Transcontinental Railroad, 1863-1869.

Page Dickey – Uprooted: A gardener Reflects on Beginning Again
"…follow Page Dickey's journey: searching for a new home, discovering the ins and outs of the landscape surrounding her new garden, establishing the garden, and learning how to be a different kind of gardener. The surprise at the heart of the book? Although Dickey was sad to leave her beloved garden, she found herself thrilled to begin a new garden in a wilder, larger landscape."

Edward Humes – A Man and His Mountain: The Everyman Who Created Kendall-Jackson and Became America's Greatest Wine Entrepreneur
"A Pulitzer Prize-winning journalist tells the story of the self-made billionaire who built the Kendall-Jackson empire from nothing into the biggest selling brand of premium wines in the U.S. Jess Stonestreet Jackson was one of a small band of pioneering entrepreneurs who put California's wine country on the map. His life story is a compelling slice of history, daring, innovation, feuds, intrigue, talent, mystique, contrarianism, and luck, offering a unique window on the elegant, adventurous, and cut-throat worlds of Jackson's two passions: wine and horseracing."–Provided by publisher.
* Casey N. Cep-Furious Hours: Murder, Fraud, and the Last Trial of Harper Lee
Reverend Willie Maxwell was a rural preacher accused of murdering five of his family members for insurance money in the 1970s. With the help of a savvy lawyer, he escaped justice for years until a relative shot him dead at the funeral of his last victim. Despite hundreds of witnesses, Maxwell's murderer was acquitted– thanks to the same attorney who had previously defended the Reverend. Sitting in the audience during the vigilante's trial was Harper Lee, who had traveled from New York City to her native Alabama with the idea of writing her own true-crime classic. Cep brings this nearly inconceivable story to life, from the shocking murders to the courtroom drama to the racial politics of the Deep South.
New Fiction:
Antique Shop Mysteries Series:
"Join Maggie Watson in the charming town of Somerset Harbor on the coast of Maine as she unearths a treasure trove of antiques and adventure. After inheriting the Carriage House Antiques shop and Sedgwick Manor, a nineteenth-century Colonial Revival, Maggie finally understands exactly what her beloved aunt meant when she said, "antiques are filled with stories–secrets just waiting to be discovered." Maggie and the lively members of the historical society set out to unravel mysteries that have been tucked away for centuries in antiques, artifacts, and heirlooms as rare and unique as the tales they hold." –Book cover
Kristin Hannah – The Four Winds
"One of the darkest periods of the Great Depression, the Dust Bowl era, has arrived with a vengeance. In this uncertain and dangerous time, Elsa Martinelli-like so many of her neighbors-must make an agonizing choice: fight for the land she loves or go west, to California, in search of a better life. The Four Winds is an indelible portrait of America and the American Dream, as seen through the eyes of one indomitable woman whose courage and sacrifice will come to define a generation"– Provided by publisher.

*C. J. Box: Dark Sky
When the governor of Wyoming gives Joe Pickett the thankless task of taking a tech baron on an elk hunting trip, Joe reluctantly treks into the wilderness with his high-profile charge. But as they venture into the woods, a man-hunter is hot on their heels, driven by a desire for revenge.
*James Paterson & Andrew Bourelle- Texas Outlaw
"Texas Ranger Rory Yates becomes famous after his girlfriend, country music star Willow Dawes, writes a song about his bravery. He tries to escape the spotlight by moving to the small West Texas town of Rio Lobo, but the chief of police doesn't want him there and soon he is drawn into an accidental death that might really be a murder." –Publisher description.

* David Baldacci-Deliver Us from Evil
"Evan Waller is a monster and his latest business venture could lead to millions of deaths all over the globe unless he can be stopped by two mysterious operatives who are unaware of each other's mission. Sequel to The whole truth by David Baldacci."

*Iris Johansen-Vendetta
"With his dying breath, Carl Venable, head of the CIA task force on terrorism and Jude Brandon's final link to terrorist ringleader Max Huber, gives Brandon a mandate: to keep his daughter, Rachel, safe at any cost. But Rachel Venable has a shocking, twisted past of her own, one that comes rushing back after her medical clinic in Guyana is attacked by Huber ."
Large Print

*Victoria Thompson-City of Schemes
"The Great War is over, and Elizabeth and Gideon are busily planning their wedding and welcoming home old friends now discharged from the army. One of them, Captain Logan Carstens, the son and heir of a wealthy family, seems less than happy to be home and with good reason. While Logan was in France, he fell in love with a beautiful French woman named Noelle. He desperately wanted to propose, but he was already engaged and felt bound to honor his commitment. When Logan receives a letter supposedly from Noelle begging for money to help her flee the terrible conditions in France and come to America, Elizabeth is suspicious."-Provided by publisher.
Tamera Alexander – Colors of Truth
"In 1866 Catriona O'Toole arrives in the town of Franklin, Tennessee, searching for her younger brother, Ryan, who, according to his last letter, was headed for Franklin only days before the catastrophic Battle of Franklin. Ryan's last note contained a stack of cash — enough money to bring his entire family across the ocean from Ireland. But after disease and illness tear through County Antrim and the O'Toole family, only Catriona and her seven-year old sister Nora are left to make the journey. Wade Cunningham, one of ten operatives in the newly formed United States Secret Service Agency, is on the hunt for counterfeiters. A tip leads him to Franklin." –Provided by publisher.
Dianne Freeman – A Lady's Guide to Mischief & Murder
"Frances, the widowed Countess of Harleigh, needs a venue for her sister Lily's imminent wedding, away from prying eyes. Risings, George Hazleton's family estate in Hampshire, is a perfect choice, and soon Frances, her beloved George, and other guests have gathered to enjoy the usual country pursuits — shooting, horse riding, and romantic interludes in secluded gardens. But the bucolic setting harbors a menace, and it's not simply the arrival of Frances's socially ambitious mother. Above and below stairs, mysterious accidents befall guests and staff alike. " –Provided by publisher.

Ellery Adams – Murder in the Storybook Cottage
"Storyton Hall, Virginia, is a top travel destination for book lovers and the perfect spot for literary events. But as a children's book publisher hosts a gathering there, some folks aren't going to live — happily ever after or otherwise . ."– Provided by publisher.

Mario Escobar – Remember Me: A Spanish Civil War Novel

"From international bestseller Mario Escobar comes a 20th-century historical novel of tragedy and resilience inspired by Spain's famed Children of Morelia and the true events that shaped their lives"– Provided by publisher.
Paperbacks
*Maja Lunde-The End of the Ocean: a Novel
"From the bestselling author of The History of Bees comes the unforgettable story of a woman who will choose between love and her fears for the future, and a father and daughter who will test the bonds of family, fate, and hope."

*Lisa Jewell-The Family Upstairs
"Soon after her twenty-fifth birthday, Libby Jones returns home from work to find the letter she's been waiting for her entire life. She rips it open with one driving thought: I am finally going to know who I am. She soon learns not only the identity of her birth parents, but also that she is the sole inheritor of their abandoned mansion on the banks of the Thames in London's fashionable Chelsea neighborhood, worth millions. Everything in Libby's life is about to change. But what she can't possibly know is that others have been waiting for this day as well–and she is on a collision course to meet them. "

*Heather Webber-South of the Buttonwood Tree
"Blue Bishop has a knack for finding lost things. While growing up in charming small-town Buttonwood, Alabama, she's happened across lost wallets, jewelry, pets, her wandering neighbor, and sometimes, trouble. No one is more surprised than Blue, however, when she comes across an abandoned newborn baby in the woods, just south of a very special buttonwood tree. Sarah Grace Landreneau Fulton is at a crossroads. She has always tried so hard to do the right thing, but her own mother would disown her if she ever learned half of Sarah Grace's secrets. The unexpected discovery of the newborn baby girl will alter Blue's and Sarah Grace's lives forever. Both women must fight for what they truly want in life and for who they love. In doing so, they uncover long-held secrets that reveal exactly who they really are – and what they're willing to sacrifice in the name of family."_-Publisher description.
Nelson DeMille – The Deserter: A Novel
"When Captain Kyle Mercer of the Army's elite Delta Force disappeared from his post in Afghanistan, a video released by his Taliban captors made international headlines. But circumstances were murky: Did Mercer desert before he was captured? Then a second video sent to Mercer's Army commanders leaves no doubt: the trained assassin and keeper of classified Army intelligence has willfully disappeared. When Mercer is spotted two years later in Caracas, Venezuela by an old army buddy, top military brass task Scott Brodie and Maggie Taylor of the Criminal Investigation Division fly to Venezuela and bring Mercer back to America, dead or alive. "
Allen Eskens – The Life We Bury
"College student Joe Talbert has the modest goal of completing a writing assignment for an English class. His task is to interview a stranger and write a brief biography of the person. With deadlines looming, Joe heads to a nearby nursing home to find a willing subject. There he meets Carl Iverson,a dying Vietnam veteran– and a convicted murderer, medically paroled to a nursing home, after spending thirty years in prison for the crimes of rape and murder. Unable to reconcile Carl's valor in Vietnam with the despicable acts of the convict, Joe throws himself into uncovering the truth."
Check Us Out–Magazines & More New Books Every Week !