Tales and Tails – Juvenile and YA
Juvenile Fiction
Geronimo Stilton – A Fabumouse Vacation for Geronimo (series)
Enter the world of Geronimo Stilton, where another funny adventure is always right around the corner. Sometimes a busy businessmouse like me needs a nice, relaxing vacation. But of all the rotten rats' luck — every time I tried to get away, disaster struck.
Each book is a fast-paced adventure with lively art and a unique format kids 7-10 will love.

Chris Grabenstein – The Smartest Kid in the Universe
When seventh-grader Jake McQuade mistakes the world's first ingestible knowledge pills for jelly beans, he suddenly knows all about physics and geometry and can speak Swahili (though Spanish would be a lot more useful)–but his sort-of girlfriend Grace thinks they can use his new found brilliance to save their middle school from the new principal, who is conspiring to get it shut down.
Ages 8-12

Wauter Mannaert – Chef Yasmina and the Potato Panic
A young chef is the only one who can protect her town from an onslaught of scientifically enhanced, highly addictive potatoes. Yasmina isn't like the other kids in her city. She might be an oddball, but no one can deny that Yasmina has a flair for food. All she needs to whip up a gourmet meal is a recipe from her cookbook and fresh vegetable form the community garden. But everything changes when the garden is bulldozed and replaced with a strange new crop of potatoes. Her neighbors can't get enough of these spuds! And after just one bite their behavior changes–they slobber, chase cats, and howl at the moon. What's the secret ingredient in these potatoes that has everyone acting like a bunch of crazed canines? Yasmina needs to find a cure, and fast!

Jeff Kinney – Diary of a Wimpy Kid: The Ugly Truth
While trying to find a new best friend after feuding with Rowley, middle-school slacker Greg Heffley is warned by older family members that adolescence is a time to act more responsibly and to think seriously about his future.

Dav Pilkey – Mothering Heights
Dog Man is down on his luck, Petey confronts his not so purr-fect past, and Grampa is up to no good. The world is spinning out of control as new villains spill into town. Everything seems dark and full of despair. But hope is not lost. Can the incredible power of love save the day?
Juvenile Non Fiction
Daniel Liebman – I Want to be a Doctor
The I Want to Be… series gives young children a realistic insight into the working day of adults. Easy-to-read captions and color photographs of women and men from different cultures help children understand what's involved in each occupation
Claudia Friddell – Saving Lady Liberty: Joseph Pulitzer's Fight to Save the Statue of Liberty
This book captures the inspiring story of how one immigrant, Joseph Pulitzer, brought together young and old, rich and poor, to raise funds for the completion of a treasured national monument.

Rachel Hamby – Restoring the Great Barrier Reef
"Describes threats to the Great Barrier Reef including runoff and warming ocean temperatures, the risks these dangers pose, and how people and scientists are working to protect the area. — Provided by publisher. Grades 4-6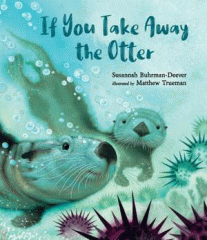 Susannah Buhrman-Deever – If You Take Away the Otter
On the Pacific Coast of North America, sea otters play, dive, and hunt for sea urchins, crabs, abalone, and fish in the lush kelp forests beneath the waves. But there was a time when people hunted the otters almost to extinction. Susannah Buhrman-Deever offers a beautifully written account of a trophic cascade, which happens when the removal of a single element affects an entire habitat."–from Amazon.com.

Robin Page – The Beak Book
Birds around the world have so many amazing kinds of beaks! There are short beaks and long beaks, straight beaks and curved beaks, flat beaks and even spoon-shaped beaks. But what do all of these beaks do? Discover how beaks of different shapes and sizes are adapted to help birds sip nectar, make nests, battle for mates, and more! — Amazon.com.
Renae Gilles – Invasive Species in Infographics
Readers will learn about the causes and effects of invasive species through colorful and clear graphics, such as maps, charts, and infographics. Book also includes a glossary, index, suggested books and websites, and a bibliograph"– Provided by publisher.
Chris Gall – Jumbo: the Making of the Boeing 747
For the 50th anniversary of the Boeing 747's first commercial flight, a picture book about the development of the iconic passenger plane and how it changed the history of air travel.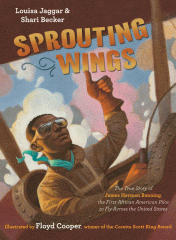 Louisa Jagger – Sprouting Wings
James Herman Banning always dreamed of touching the sky. But how could a farm boy from Oklahoma find a plane? The true story of James Herman Banning, the first African American pilot to fly across the United States.

Isabelle Marinov – The Boy Whose Head was Filled with Stars: A Life of Edwin Hubble
How many stars are in the sky? How did the universe begin? Where did it come from? This is the story of Edwin Hubble, a boy fascinated by the stars who surmounted many hurdles to follow his dreams of becoming an astronomer. Using the insights of great mathematicians and endlessly observing the sky, he succeeded in confirming two things that altered human life forever: that there are more galaxies than our own, and that the universe is always expanding.
Young Adult Fiction

R.J. Palacio – Wonder
August Pullman was born with a facial deformity that, up until now, prevented him from going to a mainstream school. Starting 5th grade at Beecher Prep, he wants nothing more than to be treated as an ordinary kid — but his classmates can't get past Auggie's extraordinary face. Wonder includes multiple perspectives to give a portrait of one community's struggle with empathy, compassion, and acceptance.
J.K Rowling – Harry Potter and the Order of the Phoenix
There is a door at the end of a silent corridor. And it is haunting Harry Potter's dreams. Why else would he be waking in the middle of the night, screaming in terror? In the richest installment yet of J.K. Rowling's seven-part story, Harry Potter is faced with the unreliability of the very government of the magical world and the impotence of the authorities at Hogwarts. Despite this (or perhaps because of it), he finds depth and strength in his friends, beyond what even he knew; boundless loyalty; and unbearable sacrifice.

J.K. Rowling – Harry Potter and the Half-Blood Prince
Harry Potter begins his sixth year at Hogwarts School of Witchcraft and Wizardry in an atmosphere of uncertainty, as the magical world begins to face the fact that the evil wizard Voldemort is alive and active once again.
Biography

Gary Paulson – Gone to the Woods
Famed for his survival stories, Gary Paulson recalls tales from his childhood during World War 2