Tails and Tales – Early Reader
Early Reader


Ellen Stoll Walsh – Balancing Act
Two mice make a teeter-totter. They're balancing just fine, but then along comes a frog. Can they make room for one more friend on their teeter-totter? What about two? What about more? But then a big bird comes along and wants to play too. Better watch out!

Jane Ormes – Little Honey Bee
Follow a garden's journey from spring to summer in this beautiful counting book.
J
an Brett – The Mitten: A Ukrainian Folktale
Several animals sleep snugly in Nicki's lost mitten until the bear sneezes.
Rosie Pajaro – Scales and Tails
Touch and feel animal textures with Del, Dot, and Dee as they meet scaly chameleons, fuzzy tarantulas, and more!
Flora Chang – Sleepyhead
Look, point, touch, count, and say goodnight to all the animal friends! A first book for bedtime to share with your little one.

Elizabeth Verdick – Tails are Not for Pulling
If pets could talk, what would they say? Maybe "Fur is for petting, backs are for scratching, noses are for nuzzling . . . and tails are not for pulling!" This book teaches the basics of kindness to animals: careful handling, awareness, safety, and respect. It also includes helpful tips for parents and caregivers.
Elizabeth Verdick -Voices are Not for Yelling
With toddlers, yelling, screaming, wailing, and flailing are a normal part of life. Very young children don't yet have the words to express strong feelings, and they're still learning social skills.
Jory John – Something's Wrong! A bear, A Hare, and some Underwear
Jeff the bear is sure he has forgotten something when he sets out from home, but none of the animals he meets initially inform him that he is only wearing his underwear, until he reaches his friend Anders the hare–who quickly thinks of a way to avoid embarrassing Jeff, by starting a fashion trend

Rosemary Wells – A visit to DR. Duck
Felix feels bad and does not want to eat or play, so his mother takes him to Doctor Duck, who makes everything better.
Jory John and Pete Oswald – The Couch Potato
"The Couch Potato has everything he needs within reach of his sunken couch cushion. But when the electricity goes out, Couch Potato is forced to peel himself away from the comforts of his living room and venture outside. And when he does, he realizes fresh air and sunshine could be just the things he needs …"– Provided by publisher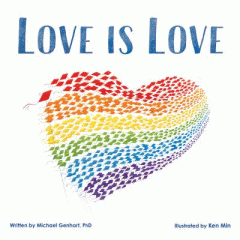 Michael Gilbert – Love is Love
"A boy becomes upset when he is teased for having two dads, but viewing his friend's family (with a mom and a dad) as not all that different from his own, he realizes the best way to counter the ridicule is to be proud of who his fathers are and know that it is love that makes a family." — (Source of summary not specified). Ages 4 and up.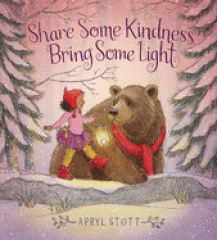 Apryl Stott – Share Some Kindness, Bring Some Light
Coco sets out to help her new friend, Bear, show other animals he is not mean just because he is big, and soon they all have learned something about kindness. Ages 4-8.
Rick DeDonato – Pipsie, Nature detective: the Lunchnapper
Pipsie and her turtle best friend, Alfred, are on the best school trip ever–a nature scavenger hunt! The team who finds Seven Wonders of Nature first wins. But that isn't all Pipsie and Alfred have to find. Someone has stolen the PB&J!
Terry Border – Scaredy Snacks!
It's cleaning day in the snack cabinet and Cheese Doodle, Pretzel, and Sprinkles are hard at work. When the food friends learn that someone has moved in next door, though, they make like bananas and split to go meet their new neighbor. But when their knock not only goes unanswered, but also opens the door to Dr. Nuttenstein's house with a creeeeak, what they find inside leaves them as shaken as if they'd been placed in a blender.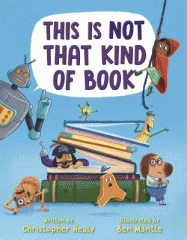 Christopher Healy – This is Not that Kind of Book
This clever alphabet book… Wait, that's not right. This original fairy tale… Nope. Mystery? Joke book? Superhero story? Pirate adventure? This delightful mash-up features every kind of character found in the picture-book universe–all in one book. Just when the reader is convinced the story is going in one direction, it spins off in another.–Amazon.