New Non-Fiction:
John Boehner – On the House: A Washington Memoir
"Here Boehner offers his impressions of leaders he's met and what made them successes or failures, from Ford and Reagan to Obama, Trump, and Biden. He shares his views on how the Republican Party has become unrecognizable today; the advice he dished out to members of his own party, the opposition, the media, and others; and his often acid-tongued comments about his former colleagues. And of course he talks about golfing with five presidents." — adapted from jacket

Judy Pace Christie – Before and After: the Incredible Real Life Stories of Orphans Who Survived the Tennessee Children's Home Society.
"From the 1920s through 1950, Georgia Tann ran a black-market baby business at the Tennessee Children's Home Society in Memphis. She offered up more than 5,000 orphans tailored to the wish lists of eager parents–hiding the fact that many weren't orphans at all, but stolen children of poor families, desperate single mothers, and women told in maternity words that their babies died. The publication of Lisa Wingate's novel Before We Were Yours brought new awareness of Tann's lucrative career in child trafficking. Adoptees who knew little about their pasts gained insight into the startling facts behind their family histories. Encouraged by their contact with Wingate and award-winning journalist Judy Christie, who documented the fifteen family stories in this book, many determined survivors set out to trace their roots and find their families" Provided by publisher.

Marsha Collier – eBay for Dummies
"Marsha Collier, longtime eBay business owner and one of their first elite PowerSellers, shares 20+ years of expertise to fast-track you to becoming a trusted buyer and seller on the site. You'll find out how to set up your account, market effectively, and master shipping and payment, as well as how to find the best bargains for yourself and close those sweet, sweet deals."– Amazon
Heather Cox Richardson – How the South Won the Civil War: Oligarchy, Democracy, and the Continuing Fight for the Soul of America
"While in the short term–militarily–the North won the Civil War, in the long term–ideologically–victory went to the South. The continual expansion of the Western frontier allowed a Southern oligarchic ideology to find a new home and take root. Even with the abolition of slavery and the equalizing power of the 13th, 14th, and 15th Amendments, and the ostensible equalizing of economic opportunity afforded by Western expansion, anti-democratic practices were deeply embedded in the country's foundations, in which the rhetoric of equality struggled against the power of money. As the settlers from the East pushed into the West, so too did all of its hierarchies, reinforced by the seizure of Mexican lands at the end of the Mexican-American War and violence toward Native Americans. Both the South and the West depended on extractive industries–cotton in the former and mining and oil in the latter–giving rise to the creation of a white business elite"– Provided by publisher
Robert Morgan – Boone
"This sweeping biography is the story of early America–its ideals, its promise, its romance, and its destiny. Novelist Morgan transforms a mythic American hero–a legend in his own time–into a flesh-and-blood man, the man who was the largest spirit of his time. Hunter, explorer, settler, visionary, he was a trailblazer and a revolutionary–an American icon for more than two hundred years." – Provided by Publisher
New Fiction:
Check out our newest mystery series: The Antique Shop Mysteries

Debbie Macomber – It's Better This Way: A Novel
"After divorce shatters her family, one woman's struggle to pick up the pieces finally leads to a new beginning–but is the past truly behind her? #1 New York Times bestselling author Debbie Macomber explores the powerful intersections of love and family in this poignant novel"– Provided by publisher.

Reunion Beach: Stories Inspired by Dorothea Benton Frank
"Inspired by the title Dorothea Benton Frank had planned for her next book — Reunion Beach — close friends and colleagues pay tribute in stories and poems that celebrate Frank, a prolific author who had a love for the Lowcountry of her native South Carolina."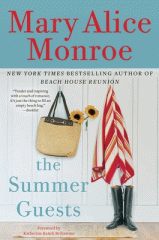 Mary Alice Monroe – The Summer Guests
"When a hurricane threatens the coasts of Florida and South Carolina, Grace and Charles Phillips host an eclectic group of evacuees."

Isabel Allende – A Long Petal of the Sea
"In the late 1930s, civil war gripped Spain. When General Franco and his Fascists succeed in overthrowing the government, hundreds of thousands are forced to flee in a treacherous journey over the mountains to the French border. Among them is Roser, a pregnant young widow, who finds her life irreversibly intertwined with that of Victor Dalmau, an army doctor and the brother of her deceased love. In order to survive, the two must unite in a marriage neither of them wants, and together are sponsored by poet Pablo Neruda to embark on the SS Winnipeg along with 2,200 other refugees in search of a new life." – Provided by Publisher
Bill Clinton & James Patterson – The President's Daughter: A Thriller
"Matthew Keating, a one-time Navy SEAL–and a past president–has always defended his family as staunchly as he has his country. Now those defenses are under attack. A madman abducts Keating's teenage daughter, Melanie–turning every parent's deepest fear into a matter of national security. As the world watches in real time, Keating embarks on a one-man special-ops mission that tests his strengths: as a leader, a warrior, and a father"– Provided by publisher.

Helene Tursten – Snowdrift
"One winter night, 28-year-old Detective Inspector Embla Nyström receives a phone call that sends her reeling. It's been fifteen years since Embla's best friend disappeared from a nightclub in Gothenburg, but Embla recognizes her voice immediately, though the call quickly disconnects. Lollo is still alive. But before Embla can dive into the case, she gets another phone call, this time from her cousin. A man has been found shot to death in one of the guest houses he and his wife manage in rural Sweden. When Embla arrives on the scene, she receives another shock. The dead man is Milo Stavic, a well-known gang member and one of the men she saw with Lollo the night she disappeared." – provided by Publisher
Paul Doiron – Dead by Dawn
"Maine game warden Mike Bowditch finds himself in a life-or-death chase in this new thriller from the bestselling mystery series by Edgar Award nominee Paul Doiron"– Provided by publisher.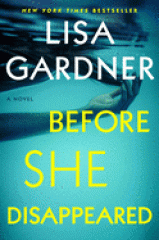 Lisa Gardner – Before She Disappeared
"Recovering alcoholic Frankie Elkin has devoted her life to searching for lost and forgotten missing persons. Frankie faces resistance from the police and the victim's family in the case of missing Haitian teen, Angelique Badeau."

T. J. Newman – Falling
"Thirty minutes before a flight to New York, the family of the pilot is kidnapped and in order for them to live, all 143 passengers onboard must die."
Erin Hilderbrand – Golden Girl
"Entering the afterlife due to a hit and run accident, a successful author learns she can observe the earthly lives of her nearly grown children and is also permitted three "nudges" to alter the outcome of events."

Louise Penny – All the Devils Are Here
"On their first night in Paris, the Gamaches gather as a family for a bistro dinner with Armand's godfather, the billionaire Stephen Horowitz. Walking home together after the meal, they watch in horror as Stephen is knocked down and critically injured in what Gamache knows is no accident, but a deliberate attempt on the elderly man's life. When a strange key is found in Stephen's possession it sends Armand, his wife Reine-Marie, and his former second-in-command at the Sûreté, Jean-Guy Beauvoir, from the top of the Tour d'Eiffel, to the bowels of the Paris Archives, from luxury hotels to odd, coded, works of art. It sends them deep into the secrets Armand's godfather has kept for decades."–Provided by publisher

Kristin Harmel – The Book of Lost Names
"Eva Traube Abrams, a semi-retired librarian in Florida, is shelving books one morning when her eyes lock on a photograph in a magazine lying open nearby. She freezes; it's an image of a book she hasn't seen in sixty-five years–a book she recognizes as The Book of Lost Names. The accompanying article discusses the looting of libraries by the Nazis across Europe during World War II–an experience Eva remembers well–and the search to reunite people with the texts taken from them so long ago." The book in the photograph, . . .appears to contain some sort of code, but researchers don't know where it came from–or what the code means. Only Eva holds the answer–but will she have the strength to revisit old memories and help reunite those lost during the war?"–Amazon.

Robert Crais – A Dangerous Man
"Joe Pike didn't expect to rescue a woman that day. He went to the bank same as anyone goes to the bank, and returned to his Jeep. So when Isabel Roland, the lonely young teller who helped him, steps out of the bank on her way to lunch, Joe is on hand when two men abduct her. Joe chases them down, and the two men are arrested. But instead of putting the drama to bed, the arrests are only the beginning of the trouble for Joe and Izzy. After posting bail, the two abductors are murdered and Izzy disappears. Pike calls on his friend, Elvis Cole, to help learn the truth."– Publisher's description

Ann Cleeves – The Darkest Evening
On the first snowy night of winter, Detective Inspector Vera Stanhope sets off for her home in the hills. . . . A car has skidded off the narrow road in front of her, its door left open, . . . There is no driver to be seen, . . . a toddler is strapped in the back seat. Vera takes the child and, driving on, she arrives at a place she knows well." "It's also where her father, Hector, grew up. Inside, there's a party in full swing: music, Christmas lights and laughter. Outside, unbeknownst to the revelers, a woman lies dead in the snow. As the blizzard traps the group deep in the freezing Northumberland countryside, Brockburn begins to give up its secrets, and as Vera digs deeper into her investigation, she also begins to uncover her family's complicated past"– Provided by publisher.

Lisa Scottoline – Eternal
Elisabetta, Marco, and Sandro grow up as the best of friends despite their differences. Elisabetta is a feisty beauty who dreams of becoming a novelist; Marco the brash and athletic son in a family of professional cyclists; and Sandro a Jewish mathematics prodigy, kind-hearted and thoughtful, the son of a lawyer and a doctor. Their friendship blossoms to love, with both Sandro and Marco hoping to win Elisabetta's heart. But in the autumn of 1937, all of that begins to change as Mussolini asserts his power, aligning Italy's Fascists with Hitler's Nazis and altering the very laws that govern Rome." "Unfolding over decades, Eternal is a tale of loyalty and loss, family and food, love and war–all set in one of the world's most beautiful cities at its darkest moment." — Provided by publisher.

David Baldacci – A Gambling Man
"So Archer hops on a bus and begins the long journey out west to California, where rumor has it there is money to be made for someone who's hard-working, lucky, a criminal, or all three. Along the way, Archer stops in Reno, where a stroke of fortune delivers him a wad of cash and an eye-popping blood-red 1939 Delahaye convertible, plus a companion for the final leg of the journey, an aspiring actress named Liberty Callahan who is planning to try her luck in Hollywood." "Archer's first stop is a P.I. office where he is hoping to apprentice with a legendary private eye and former FBI agent named Willie Dash. He lands the job, and immediately finds himself in the thick of a potential scandal: a blackmail case involving a wealthy well-connected politician running for mayor that soon spins into something even more sinister."

Karin Slaughter – The Good Daughter
"Twenty-eight years ago, Charlotte and Samantha Quinn's happy small-town family life was torn apart by a terrifying attack on their family home. It left their mother dead. It left their father – Pikeville's notorious defense attorney – devastated. And it left the family fractured beyond repair, consumed by secrets from that terrible night. Twenty-eight years later, and Charlie has followed in her father's footsteps to become a lawyer herself – the ideal good daughter. But when violence comes to Pikeville again – and a shocking tragedy leaves the whole town traumatized – Charlie is plunged into a nightmare. Not only is she the first witness on the scene, but it's a case that unleashes the terrible memories she's spent so long trying to suppress."

Jeffery Archer – Hidden in Plain Sight
"William Warwick has been promoted to Detective Sergeant, but his promotion means that he, along with the rest of his team, have been reassigned to the Drugs Squad. They are immediately tasked with apprehending Ahmed Rashedi, a notorious drug dealer, who operates his extensive network out of South London. As the investigation progresses, William runs into enemies old and new" "As William's team closes the net around a criminal network like none they have ever faced before, he devises a trap they would never expect, one that is hidden in plain sight . . "– Provided by publisher.

Carole Stivers – The Mother Code
It is 2049. When a U.S. attempt at stealth biowarfare goes awry, a team of scientists is engaged to ensure human survival on earth. Their best efforts fail, and they must turn to their last resort: a plan to place genetically engineered children inside the cocoons of large-scale robots – to be incubated, birthed, and raised by these machines, which have been programmed with the latest advances in artificial intelligence: the Mother Code. Kai is born in America's desert Southwest, his only companion his robotic Mother, Rho-Z." "When government survivors decide that the machines who raised the children must be destroyed, Kai must fight to save the only parent he has ever known" –Provided by publisher.
Large Print
Wanda E. Brunstetter, Jean Brunstetter, & Richelle Brunstetter –Return to the Big Valley: Three Romances
"Journey back to an area of Pennsylvania that is home to three distinct Amish communities and meet three young women who face heartfelt disappointments in romance. " – Provided by Publisher

Irene Hannon – Blackberry Beach
"Actress Katherine Parker is on the cusp of achieving the kind of career success she'd always dreamed of. But a visit to Hope Harbor for some much-needed R&R–and an unexpected partnership with a handsome local coffee shop owner–may cause her to rethink her ambitions and open her heart to a new dream"– Provided by publisher.

Laurie Cass – Checking Out Crime
"Minnie and her rescue cat Eddie can often be found out and about in their bookmobile near Chilson, Michigan, delivering great reads to grateful patrons all over the county. But they always brake for trouble, and when Minnie sees a car speeding away down the road and soon comes upon a dead bicyclist, she assumes she just missed seeing a hit-and-run. Minnie is determined to discover who was behind the wheel, but it soon turns out that things are far more complicated than they seem and there's more to this case than meets the eye. Luckily, this librarian is ready to read the killer his rights." –Provided by publisher.

Charles Finch – An Extravagant Death
"London, 1878. With faith in Scotland Yard shattered after a damning corruption investigation, Charles Lenox's detective agency is rapidly expanding. The gentleman sleuth has all the work he can handle, two children, and an intriguing new murder case. But when Prime Minister Benjamin Disraeli offers him the opportunity to undertake a diplomatic mission for the Queen, Lenox welcomes the chance to satisfy an unfulfilled yearning: to travel to America." "Then, a shock: the death of the season's most beautiful debutante, who appears to have thrown herself from a cliff. Or was it murder?"– Provided by publisher.
Iris Johansen – Shadow Play
"Eve Duncan is the most sought-after artist in the field of forensic sculpting." "When a sheriff in California contacts her with a request for help on the reconstruction of the skull of a nine-year-old girl whose body has been buried for eight years, his intensity and investment in the case puzzle her. But when the ghost of the girl begins communicating with her, Eve finds herself wrapped up in the case more intensely than she could have ever imagined."– Provided by publisher.

Jocelyn Green – Shadows of the White City
"She promised a dying father she would keep his daughter safe. She can't fail now. The one thing Sylvie Townsend wants most is what she feared she would never have – a family of her own. But taking in Polish immigrant Rose Dabrowski to raise and love quells those fears – until seventeen-year-old Rose goes missing at the World's Fair, . . . Sylvie seeks help from her boarder and Rose's violin instructor, Kristof Bartok." "From the glittering architecture of the Fair to the dark houses of Chicago's poorest neighborhoods, they're taken on a search that points to Rose's long-lost family."– Provided by publisher.

Andrea Camilleri – The Cook of the Halcyon
A new Inspector Montalbano mystery.
Charles Martin – The Letter Keeper
"He shows up when all hope is lost. Murphy Shepherd has made a career of finding those no one else could – survivors of human trafficking. His life's mission is helping others find freedom. But then the nightmare strikes too close to home. When his new wife, her daughter, and two other teenage girls are stolen, Murphy is left questioning all he has thought to be true." – Provided by Publisher
Paperbacks:

Susan Mallery: – California Girls
"Three sisters, after getting dumped in the same week, set out to help each other start over and rebuild their lives."
Susan Mallery – Sisters by Choice
A Blackberry Island Series Novel
Susan Mallery – When We Found Home
"Life is meant to be savored, but that's not easy with no family, limited prospects and a past you'd rather not talk about. Still, Callie Smith doesn't know how to feel when she discovers she has a brother and a sister – Malcolm, who grew up with affection, wealth and privilege, and Keira, a streetwise twelve-year-old."

Liane Moriarty – The Husband's Secret
"Discovering a tattered letter that says she is to open it only in the event of her husband's death, Cecelia, a successful family woman, is unable to resist reading the letter and discovers a secret that shatters her life and the lives of two other women."

Catherine Anderson – Keegan's Lady
Damaging the reputation of his enemy's daughter in an attempt to avenge his stepfather's murder, Ace Keegan tries to make amends by marrying the young woman, who was horribly abused by her father. A western love story.

Dorothy Hearst – Secrets of the Wolves: The Wolf Chronicles Book 2
"Years of research into the world of wolves combines with mythical tale-telling to present a fantastical adventure set in a world filled with lore. The rules of the Wide Valley wolves were clear: Never consort with humans; never kill a human unprovoked; never allow a mixed-blood wolf to live. But they were rules destined to be broken. " Provided by Publisher

Spirit of the Wolves: The Wolf Chronicles Book 3
"Set in Southern Europe at the end of the Ice Age, Spirit of the Wolves follows the visionary young she-wolf Kaala in the Wide Valley as she attempts to bring peace between wolves and humans, for the sake of both species. " – Provided by publisher
Have you checked out our Magazines? Here's a sample:
Consumer Reports
Country Woman
Discover
Farm & Ranch Living
Remininisce
Yankee