Snuggle in with a Good Book
Non Fiction: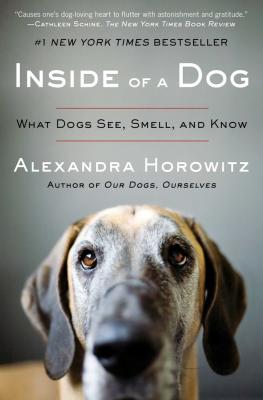 Alexandra Horowitz – The Inside of a Dog: What Dogs See, Smell, and Know
"What do dogs know? How do they think? The answers will surprise and delight you as Alexandra Horowitz, a cognitive scientist, explains how dogs perceive their daily worlds, each other, and that other quirky animal, the human."
Large Print
Jane Kirkpatrick – Something Worth Doing: A Novel of Early Suffragist
"In 1853, Abigail Scott was a nineteen-year-old school teacher in Oregon Territory when she married Ben Duniway. Marriage meant giving up on teaching, but Abigail always believed she was meant to be more than a good wife and mother. When Abigail becomes the primary breadwinner for her growing family, what she sees as a working woman appalls her — and prompts her to devote her life to fighting for the rights of women, including the right to vote."– Provided by publisher.
Susan May Warren – The Heart of a Hero
"Jake Silver may not be able to put the memories of his time as a sniper and Navy SEAL behind him, but at least he can put his skills to use as a part of the Jones Inc. rescue team. Saving the life of pediatric heart surgeon Dr. Aria Sinclair on Denali helped too. Now he can't get her out of his head, and when he hears she is in the path of a hurricane down in Key West he can't help but jump on a plane to rescue her. Aria has dedicated her life to helping children born with defective hearts. After all, she was one of those children. Now driven to succeed, she lives a lonely, stressful life. Provided by publisher.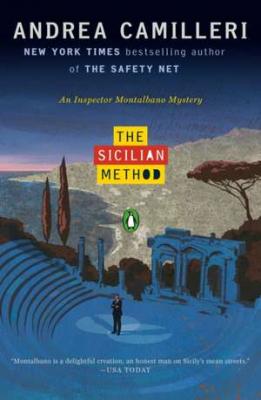 Andrea Camilleri – The Sicilian Method
"In the new novel in the transporting New York Times bestselling Inspector Montalbano mystery series, Montalbano finds his answers to a murder in a theatrical play. Mimi Augello is visiting his lover when the woman's husband unexpectedly returns to the apartment; he climbs out the window and into the downstairs apartment, but one danger leads to another. In the dark he sees a body lying on the bed. Shortly after, another body is found, and the victim is Carmelo Catalanotti, a director of bourgeois dramas with a harsh reputation for the acting method he developed for his actors. Are the two deaths connected?" Provided by publisher
M. L. Longworth – The secrets of the Bastide Blanche
"One hot summer night, Aix-en-Provence is aflutter with news that controversial author Valere Barbier, has moved into La Bastide Blanche, a grand house left empty for decades. But Valere's ideas of a peaceful retirement are quickly dashed. Rambunctious neighborhood children, a fast-talking gossip of a housekeeper, and a rival novelist filter through the home at all hours of the day — and by night there are unseen visitors with more sinister intentions. While Antoine Verlaque investigates Valere's history, his wife and partner, Marine Bonnet, questions why the estate was abandoned in the first place — and what they both find raises more questions than answers."
Paperbacks
Susan Anne Mason – A Haven for Her Heart (the first installment in the Redemption's Light series: Bethany House)
"Toronto, 1939. Released after being incarcerated in a woman's reformatory for being pregnant and unmarried, Olivia Rosetti's family is unwilling to forgive her. She ends up homeless. Well-to-do widow Ruth Bennington hires Olivia to help with a maternity home for troubled women, and for years Olivia focuses herself on the home. Greek widower Darius Reed is determined to protect his daughter from the prejudice that killed his wife. When his employer orders him to buy the property the maternity home is on, he is attracted to Olivia. Can love prove stronger than the secrets and hurts of the past?"–Provided by publisher
Fiction:
Catherine Coulter – Blindside
"In the wake of a series of kidnapping attempts, Savich, Sherlock, and FBI agent Miles Kettering–whose six-year-old son was one of the attempted victims–trace leads to a charismatic evangelist team."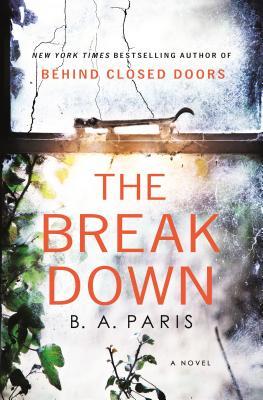 B. A. Paris – The Breakdown
"Cass is having a hard time since the night she saw the car in the woods, on the winding rural road, in the middle of a downpour, with the woman sitting inside–the woman who was killed. She's been trying to put the crime out of her mind; what could she have done, really? It's a dangerous road to be on in the middle of a storm. Her husband would be furious if he knew she'd broken her promise not to take that shortcut home. And she probably would only have been hurt herself if she'd stopped. But since then, she's been forgetting every little thing: where she left the car, if she took her pills, the alarm code, why she ordered a pram when she doesn't have a baby. The only thing she can't forget is that woman, the woman she might have saved, and the terrible nagging guilt. Or the silent calls she's receiving, or the feeling that someone's watching her … " Provided by publisher.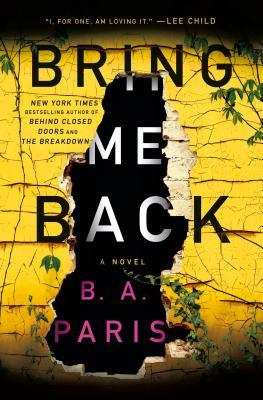 B. A. Paris – Bring Me Back
"Finn and Layla are young, in love, and on vacation. They're driving along the highway when Finn decides to stop at a service station to use the restroom. He hops out of the car, locks the doors behind him, and goes inside. When he returns Layla is gone, never to be seen again. That is the story Finn told to the police. But it is not the whole story. Ten years later Finn is engaged to Layla's sister, Ellen. Their shared grief over what happened to Layla drew them close and now they intend to remain together. Still, there's something about Ellen that Finn has never fully understood. His heart wants to believe that she is the one for him, even though a sixth sense tells him not to trust her. Then, not long before he and Ellen are to be married, Finn gets a phone call. Someone from his past has seen Layla, hiding in plain sight. "
David Baldacci – Daylight
"FBI Agent Atlee Pine's search for her sister Mercy clashes with military investigator John Puller's high-stakes case, leading them both deep into a global conspiracy — from which neither of them will escape unscathed"– Provided by publisher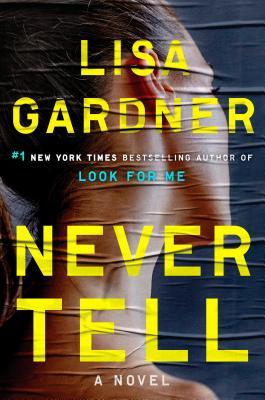 Lisa Gardner – Never Tell
"A man is dead, shot three times in his home office. But his computer has been shot twelve times, and when the cops arrive, his pregnant wife is holding the gun. D.D. Warren arrives on the scene and recognizes the woman–Evie Carter–from a case many years back. Evie's father was killed in a shooting that was ruled an accident. But for D.D., two coincidental murders is too many. Flora Dane sees the murder of Conrad Carter on the TV news and immediately knows his face." Provided by the publisher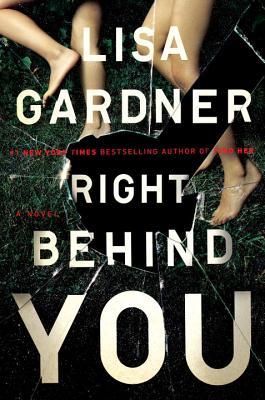 Lisa Gardner – Right Behind You
"Is he a hero? Eight years ago, Sharlah May Nash's older brother beat their drunken father to death with a baseball bat in order to save both of their lives. Now thirteen years old, Sharlah has finally moved on. About to be adopted by retired FBI profiler Pierce Quincy and his partner, Rainie Conner, Sharlah loves one thing best about her new family: They are all experts on monsters. Is he a killer? Then the call comes in. A double murder at a local gas station, followed by reports of an armed suspect shooting his way through the wilds of Oregon." provided by the publisher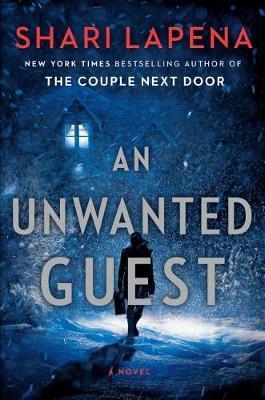 Shari Lapena – An Unwanted Guest
"A weekend retreat at a cozy mountain lodge is supposed to be the perfect getaway. But when the storm hits, no one is getting away. It's winter in the Catskills and Mitchell's Inn, nestled deep in the woods, is the perfect setting for a relaxing maybe even romantic weekend away. So when the weather takes a turn for the worse, and a blizzard cuts off the electricity and all contact with the outside world the guests settle in for the long haul. Soon, though, one of the guests turns up dead it looks like an accident. But when a second guest dies, they start to panic. " provided by the publisher
Iris Johansen – Vendetta
"With his dying breath, Carl Venable, head of the CIA task force on terrorism and Jude Brandon's final link to terrorist ringleader Max Huber, gives Brandon a mandate: to keep his daughter, Rachel, safe at any cost. But Rachel Venable has a shocking, twisted past of her own, one that comes rushing back after her medical clinic in Guyana is attacked by Huber."