Preschool Story Time Returns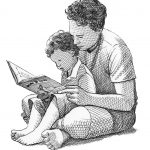 All Northern Tioga area Pre-schoolers and their parents, grandparents, or caregivers are invited to share stories, songs, games, and crafts on Tuesdays from 10 to 11 am beginning October 18.  Older siblings of homeschooled families are welcome to come.
By request of the past year's participants, Story Time will be held once a week, at the library at the corner of Route 38 and Jewett Hill Road.  For more information, please contact Fran during regular library hours.
This free program is sponsored by a grant from the Bernard Carl and Shirley Rosen fund administered by the Community Foundation of Tompkins County.